Solaris has been created by me at the start of TeamExtreme V3.
It was originally meant to be a storage area and an outpost shop... is obvious that things went out of hand: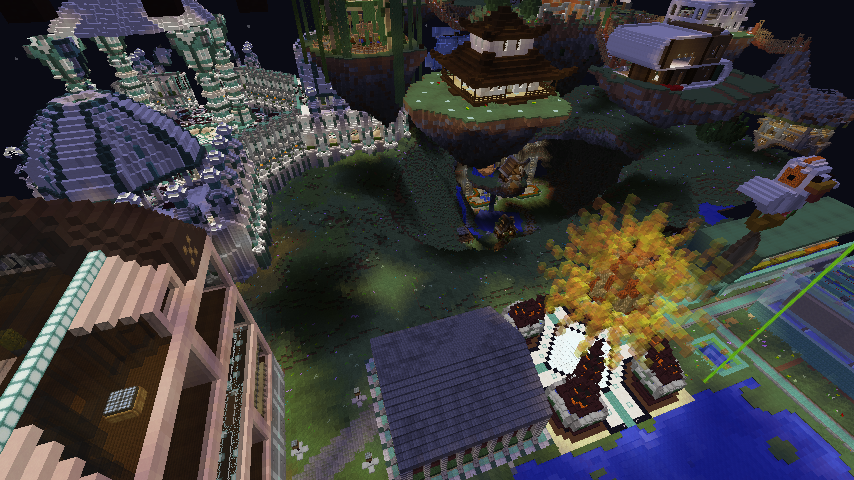 Currently, Solaris is a building oriented faction, but the original facilities still remain:
- faction hotel with 12 rooms (could be increased, but is not going to happen), 2 chunks each room + faction warp
- guardian farm & triple spawner + pigman farm
- all the possible allowed semi-autofarms of the server, basically
Faction rules
Every faction member will receive an invite to the dedicate collective forums PM "Solaris News", where faction discussion takes place. All the faction rules are explained in detail there.
A brief summary:
1. Plots do not exist.
Except hotel area, everyone is allowed to start any project anywhere (if is going to be particularly big you should discuss it with officers first). Personally I don't mind people editing my buildings, but if you are going to touch other members' stuff, contact them first.
2. Use your common sense and behave responsibly.
I'm not going to repeat "do not grief" and all the other stuff: is your responsibility to abide by server rules, and you (should) know what will happen if you don't.
Same goes for the respect speech and related: if you do even need this rule, means you are not fitted for this faction.
After using a public farm, always remember to replant (if you are really busy, just do it as soon as possible).
About XP farms: if it's been a while since you started to use one and others want to join, leave or share.
3. Leaving / rejoining is not a problem.
Once a player is accepted in faction, he/she will be allowed to rejoin anytime (timing out / temporary leaving for any reason; nobody gets kicked unless there is a really serious matter going on). Officers who timed out can get their rank back anytime.
Joining Solaris
Ok, this is a so called "staff faction", but if you want to join just for me, you are way off. Let's be clear about this point.
Aside the fact I usually have no time to check faction matters and the actual ones who keep the place alive are the members themselves, joining a staff faction doesn't give you immunity from bans, authority or whatever. On the contrary, watch your ass: I don't ask anyone to act as model, as far as I am concerned even the most toxic people can play on the server as long as they respect rules, but if you mess up I'll be the first to kick your butt.
This is a faction dedicated to builders, but doesn't have a precise theme. The only requirement is to be a decent one at least.
Since an image is better than a thousand words, here is an example of what I personally consider a good building.
These are the (really old) houses of 2 faction members, both without any vip ranks (ignore the planet behind):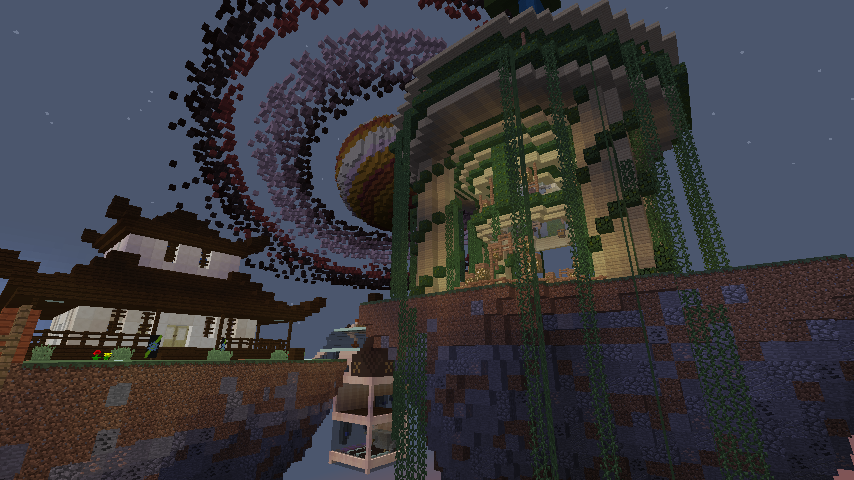 Note: officers are allowed to make exceptions to this rule, I trust in their good judgement. For example, a cunning redstoner (or whatever they are called) can be invited without problems (still, building skills is what is valued the most in an application).
About applications:
1. Max one application per player. If you have 2 accounts, you can join with both if you really want.
2. Applications can be accepted only by faction officers.
3. If an application is declined, don't start drama; in this topic I am here as faction leader, not as staff: if I say here the structures you posted to apply are not good enough, don't take it personal for fuck's sake, I am not judging you as player.
4. Applications with structures copied from the Internet are immediately declined.
5. Applications which completely fail the format below are declined: if you are not able to read, is better if you don't apply.
Application format
Ingame name:
Previous bans (if any):
VIP rank (if any):
When did you join TE:
If you are going to leave another B1 faction to apply for this one, explain why:
Screenshots of your buildings on TE, with coordinates and world location (minimum 1, max 3):
This is also Solaris's faction discussion topic. Probably it will be rarely used since main discussion is kept in the collective forums PM, but posting here is no problem, this not reserved to applications only.